About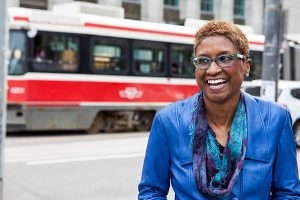 Paula Boggs is the founder of Boggs Media, LLC, a business that manages her music, speaking, and other creative business activities. She is a Tedx©Speaker, Writer, Lawyer, Army Veteran, Musician. She is also a Board Member of numerous organizations.
Paula Boggs served as Executive Vice President, General Counsel and Secretary at Starbucks Corporation from 2002 to 2012. In 2009, NASDAQ©️ named her its top general counsel. Her prior professional experience includes serving as Vice President Legal at Dell Computer Corporation, and as a partner at the law firm of Preston Gates & Ellis, LLP. She also had a 14-year career in public service, including as an Assistant U.S. Attorney, and in various capacities as an attorney for the U.S. Army, the Department of Defense and the White House Office of Legal Counsel. She served eight years as a Regular Officer in the United States Army, earned Army Airborne wings and a Congressional appointment to the US Naval Academy – among America's first women to do so.
Paula Boggs is a graduate of the University of California at Berkeley School of Law and earned a bachelor's degree in International Studies from Johns Hopkins University. She was also an adjunct professor at the University of Washington School of Law.
Since leaving Starbucks, Paula Boggs gives speeches across the United States and beyond, writes essays and music, co-produces albums for, and tours extensively with, Paula Boggs Band. In 2013, President Obama appointed her to the President's Committee on the Arts and the Humanities, in 2018 she received the Seattle Mayor's Arts Award and in 2021 Southwestern University (Georgetown, TX) conferred an honorary doctorate in laws.
Paula Boggs owns several U.S. Copyrights and is a Voting Member and Board Governor of The Recording Academy, Pacific Northwest Chapter.
Her current civic and professional activities include:
Current Boards: Avid Technology, Inc. (NASDAQ, 2015-Present);
Seattle Symphony (2017-Present); Fender Musical Instruments Corporation (2021-Present); American Bar Foundation; member, Peabody Institute of The Johns Hopkins University National Advisory Board; YMCA of Greater Seattle, Life Board; Recording Academy, Governor to the Pacific Northwest Chapter Board.
Past Boards:
Member, President's Committee on the Arts and the Humanities (2014-2017); KEXP (Public Radio Station affiliated with University of Washington): Advisory Council & Board (2007-2017), Board Secretary, Co-Chair Capital Campaign; Johns Hopkins University Board of Trustees (1998-2016): Past Chair, Audit & Insurance Committee, Chair, Student Life Committee, member of Executive and Academic Affairs Committees; Co-Chair, JHU Legacy Society; Member, JHU Capital Campaign Executive Committee; Santa Fe University of Art and Design, Business Programs Advisory Board (2016-2017); American Bar Association Board of Governors; American Bar Association House of Delegates; American Red Cross National Board of Governors; Sterling Financial Corporation (NASDAQ); White House Council for Community Solutions; School of Rock LLC; Premera Blue Cross: Chaired, Investment and Compensation Committees; Pinnacle Holdings Inc. (NASDAQ); Seattle Art Museum; Association of Corporate Counsel; Georgetown (TX) Economic Development Commission: Chair, 2001-2002; Georgetown (TX) Public Library Foundation; Vice-Chair 1998-2000, Greater Seattle YMCA; Vice-Chair, Washington State Equal Justice Coalition; Legal Aid for Washington (LAWFUND) Board President 2006-2008.
Other:
Class of 2021 Commencement Speaker, Southwestern University (Georgetown, TX); Class of 2017 Commencement Speaker, St. Philips College (San Antonio, TX); Johns Hopkins University Emerita Trustee (2016-Present); Johns Hopkins University Peabody Institute and Carey Business School Dean Search Committee Member; NAACP Life Member; Donor and Creator, The Boggs Fellowship, 1998-Present (given to HBCU graduates or underrepresented persons of color who pursue graduate studies in the physical, biological or engineering sciences at Johns Hopkins University); Loren Miller Bar Association Member; Association of Corporate Counsel (ACC) Docket Editorial Advisory Board; Lincoln Center Institute 2010 Imagination Award Advisory Panel; Co-Chair, Washington State Campaign for Equal Justice; Mentor, Guiding Lights Weekend; Presidential Classroom for Young Americans, Volunteer Instructor; Chair, Law & Government Cluster, Greater Seattle YMCA Black Achievers Program.
Paula Boggs' professional honors include:
U.S. Army Infantry Parachute Badge (Airborne, 1980); Defense Meritorious Service Award (1987); Presidential Service Badge (President Ronald Reagan, 1988); U.S. Department of Justice Special Achievement Award ("for sustained superior performance of duty" 1990, 1991); Who's Who Among Rising Young Americans (1992); Secretary of Defense Award For Excellence (Secretary William Perry, 1994); Selectee, Puget Sound Business Journal's "40 Under 40" (1995); Recipient, 1998 Boalt Hall Alumni Association Recent Alumnus Award; 2003 King County Bar Association Pro Bono Firm of the Year, Starbucks Legal Department; ABA 2006 Spirit of Excellence Award; 2006 Sergeant Shriver Award for Equal Justice; Urban League of Metropolitan Seattle 2006 "Spirit" Award; 2007 Corporate Counsel Women of Color Diamond Award Honoree; 2008 Asian Bar Association of Washington President's Award; Honoree, 2008 National Bar Association Wiley A. Branton Award; 2008 Honoree, Council on Legal Education Opportunity 40th Anniversary West/Northwestern Region, Individual Leadership Award; named NASDAQ's 2009 Top General Counsel; 2009 Johns Hopkins University Distinguished Alumnus(a) Award; Honoree, Puget Sound Business Journal 2010 Women of Influence; 2011 Loren Miller Bar Association President's Award; Designee, 2012 WNBA Seattle Storm Woman of Distinction; Designee, 2013 American Bar Association "Notable Member;" 2013 Song of the Year© Suggested Artist Award, "The Decision" aka "Carnival of Miracles;" Seattle Girls School 2014 Grace Hopper Award for Lifetime Achievement Honoree; Semi-Finalist, 2014 Song of the Year© Award, "Look Straight Ahead;" 2015 The Mission Continues Compass Award; 2015 Lawdragon Hall of Fame; 2016 Upstanding and Financial Times US/UK Executive Power List for Diversity Leadership; 2016 Johns Hopkins University ROTC Hall of Fame Inductee; 2016 Direct Women Sandra Day O'Connor Award; 2016 Semi-Finalist Song of the Year© Award, "Gigging for the Angels;" 2017 Legal Foundation of Washington Goldmark Award; 2018 Seattle Mayor's Arts Awards Honoree; 2019 Loren Miller Bar Association "Trailblazer" Award; 2020 Minority Corporate Counsel Association Charlotte E. Ray Award; Honorary Doctorate of Laws, Southwestern University (2021)